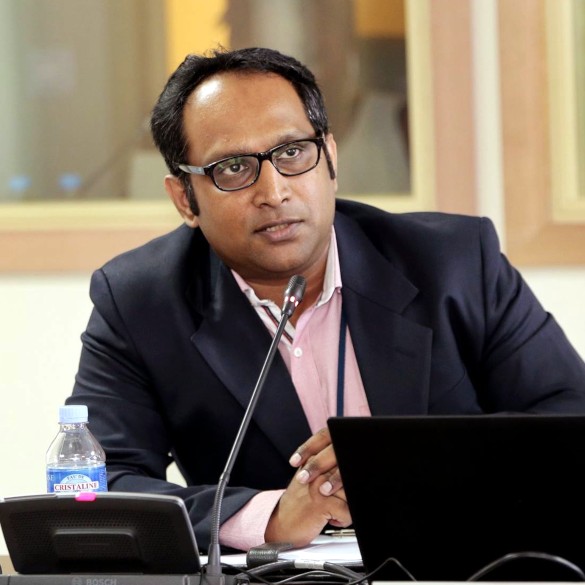 Ranjith R Menon
indiaebiz
Managing Director & Principal Consultant
Mr. Menon is a healthcare management specialist with a decade and half of broad-based experience in the field of healthcare, cutting-edge areas like healthcare strategic planning and management, process standardization and quality assurance, public health and information technology applications in health care. He co-founded Isos and serves as a Director and is actively involved in assignments across all the three practices.
Before setting up Isos Consultancy Services, he was in senior positions with consultancy operations like MedicaSynergie (an integrated healthcare group based in Kolkata) and EPOS Health Consultants (an international healthcare consultancy based in Germany). He also worked with the Narayana Hrudayalaya/Asia Heart Foundation group as Group Consultant responsible for Quality and Systems across the group hospitals.
His stints in information technology include working with Siemens, as a Domain Expert and Product Analyst for their Health Information Systems and also as the business and operations head of one of the oldest health information portals in the country Medindia.net, where he was a part of the core development team.
Mr. Menon has extensive passion and exposure to public health especially quality improvement working with GIZ (formerly GTZ) for hospital accreditation standards in Himachal Pradesh and West Bengal and working with the European Commission Partnership Programme in Chattisgarh. He also worked with the National Health Systems Research Centre (NHSRC) in the national pilot for developing a framework for quality improvement and certification for public health facilities which has been scaled up and implemented nationwide under the NRHM. He has worked in several projects and assignments with several state governments, development partners like UNICEF and DFID and international NGOs like Oxfam during his career.
Mr. Menon had done his MBA (Hospital Administration) integrated program from the Institute of Management Studies, DA University Indore, specializing in Hospital Administration and Human Resources Management.